Visual Journaling With Mary Alice Ramsey
April 26th through May 31st 2012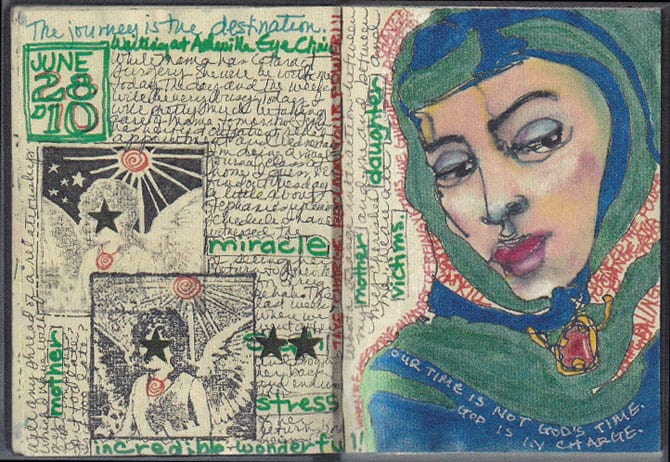 VISUAL JOURNALING
Meets for six weeks on Thursdays from 10 am until 1 pm, April 26-May 31
Tuition is $200 + $35 materials fee
This is a class for beginning and experienced artists and/ or writers who wish to combine words and images within a journal. Participants will combine personal written reflections from prompts with complex and unique mixed media images.
Plan to explore backgrounds, borders, collage, image transfers, rubber stamping, printmaking and letter variations, and mixed media  expressions. Blank books and some media will be provided. Bring pens, colored pencils, glue, collage elements and snack or bag lunch. Expect personal exploration and infectious visual excitement! Small class size.
Mary Alice Ramsey is a mixed media artist, bookmaker, visual journalist, illustrator, writer and performance poet. She is a founder and co-owner of Sassafrass Studio at Riverview Station in the River Arts District of Asheville, North Carolina. She is an instructor of art who has exhibited paintings regionally, has illustrated six books, and is a published writer and poet. She completed undergraduate work at UNC Asheville and graduate work at Westem Carolina University with dual majors in Art and Education. She is a National Board Certified Teacher of Art for Adolescents and Adults who is passionate about images and words.
Classes held at River's Edge Studio
At Riverview Station North
191 Lyman Street, Studio 310
Asheville, NC 28801
Call 828-176-2716 for RES class information or email fleta@fletamonaghan.com
Download Class Registration Form
(pdf format – right click on the link above and select "Save Link As")